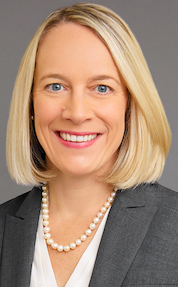 Marianne Martin (Mortimer)
Partner
Marianne Martin (also referred to as Marianne Mortimer) is a partner in JMBM's Corporate practice, and a member of JMBM's Global Hospitality Group®.
Marianne has nearly fifteen years of experience advising clients on a variety of commercial, financing, bankruptcy, restructuring and M&A matters, with a particular niche dealing with distressed and/or turnaround situations. Her clients frequently include private equity and hedge funds, independent sponsors, family offices, public and private corporations, financial institutions and banks, healthcare-related companies, municipalities and venture capital funds.
She has represented clients in various capacities, including as borrowers/debtors, lenders, acquirers and agents/trustees, in negotiating and documenting complex commercial transactions, such as commercial loan originations (including senior and subordinated credit facilities) and exchange transactions, out-of-court restructuring transactions and advising on purchasing considerations in secondary market debt transactions. She has represented clients in numerous industries, including technology, media and entertainment, healthcare, municipal and 501(c)(3) corporations, retail, hospitality, consumer products and food & beverage and financial services.
Marianne also routinely counsels clients in relation to bankruptcy, ABC, UCC-9 foreclosure and out-of-court restructuring matters, including representing clients as third party purchasers in distressed M&A transactions, and counseling clients in arbitrage situations. She has played a key role in large Chapter 11 cases, such as Enron Corp., Lehman Brothers, The Great Atlantic & Pacific Tea Company, Inc., Neff Corp. and more recently, Verity Health System of California, Inc. On the debtor side, her experience has included representing the City of San Bernardino, California, Ambassadors International, Inc. (a.k.a., the "Windstar" cruise line) and The Brooklyn Hospital Center.
Marianne also routinely advises small to mid-sized companies, lenders and other creditors on considerations inherent in the filing of a Chapter 11 bankruptcy case, and she has counseled clients on various issues related to bankruptcy preparedness and restructuring options. Marianne was named a "Southern California Rising Star" by Super Lawyers in 2015 and 2016.
Representative Transactions
Represented boutique California hotel property in financing matters related to the CARES Act Paycheck Protection Program (PPP) matters.
Represented a private equity investor and lender in a multi-million dollar exchange transaction securing collateral consisting of intellectual property and entertainment and media rights.
Represented a secured lender in a UCC Article 9 public foreclosure sale of a technology start-up and represented the lender in related follow-on transactions.
Represented a Bay Area-based venture capital firm and secured lender of pharmaceutical company as a stalking horse and successful purchaser of certain of the company's assets in an assignment for the benefit of creditors transaction.
Represented a secured lender group in a UCC Article 9 strict foreclosure restructuring transaction involving a wireless technology company.
Represented the ad hoc group of first lien term loan holders in the chapter 11 bankruptcy case of Neff Corp., et al., a home building equipment rental company, in a restructuring of approximately $400 million of debt.
Represented The Bank of New York Mellon as Administrative Agent for the Secured Lenders of chapter 11 bankruptcy cases of Reliant Energy Channelview LP.
Represented the ad hoc committee of convertible noteholders in the initial chapter 11 bankruptcy cases of The Great Atlantic & Pacific Tea Company, Inc., et al., including in a nearly $490 million plan sponsorship and in related transactions.
Represented numerous banks, institutional real property holding companies and other institutional creditors in relation to the Lehman Brothers Inc., Lehman Commercial Paper Inc., Lehman Brothers Holdings Inc. and related Lehman Brothers bankruptcy cases.
Representative Experience
Represented multiple hotel property owners and managers in financing and refinancing/restructuring and related matters.
Represented an ad hoc secured lender group in the restructuring and refinancing of over $100 million in term loans in the Primus Telecommunications Group, Inc. bankruptcy cases pending in the Bankruptcy Court for the District of Delaware.
Represented the Brooklyn Hospital Center in the finalizing and closing of its chapter 11 bankruptcy case and in connection with various exit financing issues.
Represented the ad hoc group of senior secured noteholders in the chapter 11 bankruptcy case of Neenah Enterprises, Inc., a manufacturer of castings for municipal and industrial sectors based in Neenah, Wisconsin, in a restructuring of more than $350 million of debt.
Acted as debtor counsel for Ambassadors International, Inc. and certain of its subsidiaries in a Bankruptcy Code § 363 sale of the "Windstar" cruise line, the filing of the debtors' bankruptcy cases and in related matters and transactions related to the pending bankruptcy cases.
Successfully represented defendants in adversary litigation arising out of the Chapter 11 bankruptcy proceedings of Smith Street Realty, Inc. and several related entities. The dispute settled favorably for defendants after briefing on motions to dismiss the adversary complaints.
Represented the Official Committee of Equity Security Holders of Calpine Corporation in the Debtors' Chapter 11 Bankruptcy Cases.
Represented debtor, Enron Corp., in multiple avoidance actions and successful related settlements of actions.
Represented St. Vincent Medical Centers, as co-debtor's counsel, in its initial chapter 11 bankruptcy case.
Education
J.D., Brooklyn Law School
B.S., Boston University
magna cum laude
Jurisdictions Admitted to Practice
State Bar of California
Central District of California
Bankruptcy Court, Central District of California
State Bar of New York
Southern District of New York
Eastern District of New York
Bankruptcy Court, Southern District of New York