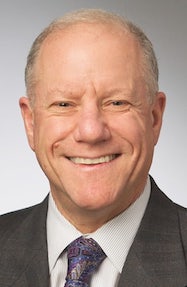 John A. Graham
Partner
John Graham is co-chair of the Firm's Bankruptcy Group and a member of the Firm's Litigation Group and Global Hospitality Group®. He has served as counsel for financial institutions for 30 years on a wide variety of legal matters.
John specializes in complex federal and state court litigation relating to business disputes, commercial law, lender liability claims, fraudulent business schemes, and fraudulent conveyances, as well as major workouts and Chapter 11 reorganizations.
His practice also includes problem-solving and litigation under the Uniform Commercial Code, including Article 9 secured transactions, real estate secured transactions, the one-action rule, security-first rule, antideficiency statutes, and mixed-collateral foreclosures.
Representative Experience
Represented Union Bank in its appeal to the United States Supreme Court in Union Bank v. Wolas, 502 U.S. 151 (1991), which resulted in a unanimous decision in favor of petitioner Union Bank
Designed and implemented legal strategies on behalf of trustee in bankruptcy in a complex Ponzi scheme matter involving leasing and financing of equipment. The legal proceedings resulted in published rulings awarding creditors $82 million. Teleservices Group, Inc. v. The Huntington National Bank, 444 B.R. 767 (2011); Teleservices Group, Inc. v. The Huntington National Bank, 469 B.R. 713 (2012); Judgment entered September 28, 2015, Marcia R. Meoli v. Huntington National Bank, 2015 U.S. Dist. LEXIS 129909.
Served as expert witness and provided testimony to the High Court of Justice, Queen's Bench Division in Robert Gresham Gray v. Richard Smith, et. al., which involved a high-stakes dispute over ownership of a rare McLaren F1 racecar, one of only nine factory-built "Long-Tails" ever made. The English court required California law expertise on complex issues under Division 2 of the California Uniform Commercial Code, including the effect on title caused by a complex fraud by a duplicitous agent who purchased and later resold the McLaren racecar. The court's judgment adopted the opinion formulated by Mr. Graham.
Retained by Visa and Mastercard to represent credit card industry on an issue of national significance regarding bankruptcy fraud standards. Household Credit Services, Inc. v. Christopher W. Ettell; Marla Ettell, 188 F.3d 1141 (9th Cir. 1999)
Represented the American Bankers Association, California Bankers Association, and the California League of Savings Institutions in their amicus brief to the United States Supreme Court in Timbers of Inwood Forest, 484 U.S. 365 (1988)
Represented the Official Committee of Unsecured Creditors in the Parker North American case which resulted in a favorable Ninth Circuit opinion protecting attorney-client privilege between creditors committees and counsel (Marcus v. Parker, 978 F.2d 1159 (1992))
Represented Crocker National Bank as trial counsel in In re American Mariner, 734 F.2d 426 (1984)
Education
J.D., University of San Diego School of Law, 1976
B.A., Pennsylvania State University College of Science, 1972
Bar Admissions
State Bar of California