JMBM Promotes Los Angeles Hospitality and Real Estate Attorney, Brandon Chock, to Partner
January 6, 2017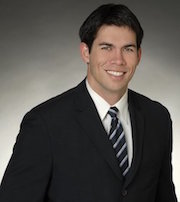 Los Angeles – Jeffer Mangels Butler & Mitchell LLP (JMBM) is pleased to announce that real estate and hospitality attorney Brandon Chock has been promoted to Partner.
"Brandon is an asset to the Firm in every respect, and we are pleased to welcome him to the partnership," said Bruce P. Jeffer, JMBM's managing partner.
Chock has experience in an array of real estate transactions including commercial, industrial and residential acquisitions and dispositions, leasing, real-estate secured financing, joint venture formation, and hospitality.
"Brandon has distinguished himself as an outstanding attorney who is dedicated to providing clients with excellent results," said Jim Butler, Chair of JMBM's Real Estate Department and Global Hospitality Group®, and founding member of the Firm.
Chock represents private equity clients in the acquisition, financing and development of performing and distressed assets, and private and institutional lenders in making bridge, permanent, mezzanine and construction financing, secured by real estate projects throughout the United States. He has also assisted investors and lenders, including regional centers, in structuring and documenting EB-5 financing. In the hospitality sector, he represents hotel owners in acquisitions and sales, all levels of financing, development, and management agreement and liquor license negotiations.
"JMBM has been a great place to hone my legal skills and develop professional relationships," said Chock. "I am honored to join the Firm as a partner and look forward to contributing to the success of our clients and the Firm."
Prior to joining JMBM, Chock practiced law at Latham & Watkins in New York and served as counsel to Warner Bros. Home Entertainment. The Los Angeles County Bar Association's Real Property Section recognized him with an Outstanding Young Lawyer award, and Super Lawyers has recognized him as a Rising Star for two consecutive years.
Chock received his J.D. from New York University School of Law (2006) and A.B. from Stanford University (2001).
About Jeffer Mangels Butler & Mitchell LLP
For 35 years Jeffer Mangels Butler & Mitchell LLP (JMBM) has provided clients with results—successfully resolving cases, closing deals, protecting assets, and adding value. From our offices in Los Angeles, San Francisco and Orange County, we serve our clients' needs worldwide. For more information, see www.JMBM.com.
Contact
Jim Butler
310.310.3526
jbutler@jmbm.com