The ADA Compliance and Defense Guide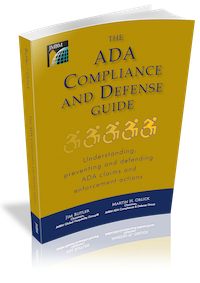 The Americans with Disabilities Act (ADA) affects the business practices of numerous industries including hotels, restaurants, golf courses, spas and sports facilities, banks and other financial institutions, retailers, theaters and sports arenas, retail stores, shopping centers and other places of "public accommodation" as defined by the ADA.
The ADA Compliance and Defense Guide is a practical, easy-to-read guide that addresses the complexities and ever-expanding requirements of the Americans with Disabilities Act (ADA).
Co-authored by hotel lawyer Jim Butler and ADA lawyer Marty Orlick, the Guide includes information on requirements for accessible websites, service animals, pool lifts, auxiliary aids, and the importance of developing company-wide ADA policies and procedures. Through numerous case studies, the Guide addresses Department of Justice investigations and private plaintiff litigation.
Register and download your free copy
You may download your free copy after completing and submitting the registration form below. By downloading, you agree that you will not give your download or printed copy to others. This copyrighted publication is available legally to anyone who registers and downloads.
| | |
| --- | --- |
| First Name: | |
| Last Name: | |
| Title: | |
| Company: | |
| Email: | |
| Telephone: | |
| Street: | |
| City: | |
| State/Province: | |
| Postal Code: | |
| Country: | |

What is your current interest or involvement with the ADA?




Would you like a JMBM attorney to contact you?




For questions, contact:
Jim Butler, Hotel Lawyer, at 310-201-3526 or jbutler@jmbm.com
Marty Orlick, ADA Lawyer, at 415-984-9667 or morlick@jmbm.com