Lenders Handbook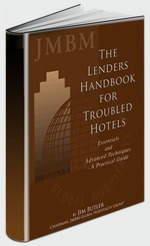 If you are dealing with the troubled hotel asset of any kind, The Lenders Handbook for Troubled Hotels will be an invaluable guide for you. This comprehensive, easy-to-read, 98-page book is FREE from the hotel lawyers at JMBM's Global Hospitality Group®.
Although dedicated to lenders and owners, because of our substantial practice in representing them with hotels, we also represent owners and borrowers, and this resource is certainly a "must read" for them.
Register for your free copy
This book is FREE but you must provide all of the required information to receive your copy:
First Name:

Last Name:

Title:

Company:

Email:

Telephone:

Street:

City:

State/Province:

Postal Code:

Country:

What is your interest in the Lenders Handbook?




Would you like a JMBM attorney to contact you?