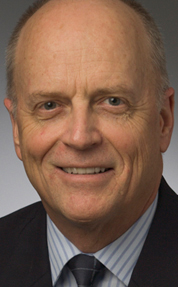 Kenneth C. Bovard
Partner
Ken Bovard's practice, which spans more than three decades, emphasizes commercial law and finance, asset-based lending, real estate secured transactions, sales and leasing of real property and personal property, consumer credit and related financial transactions. He is a member of JMBM's Global Hospitality Group®.

Ken has extensive experience in representing banks, commercial finance lenders, savings associations, thrift and loans, mortgage bankers, and factors in financial transactions, licensing and regulatory matters. He also represents major motor vehicle manufacturers and their wholesale financing subsidiaries in distributorship and franchise matters, flooring financing, and retail financing transactions.
Ken represents creditors in all aspects of commercial finance transactions, including the creation, perfection and enforcement of security interests, and negotiating, structuring and documenting commercial loans, syndicated transactions, intercreditor agreements, and participation agreements. He handles problem loan workouts, restructuring of commercial loans, mixed collateral issues, default remedies, judicial and non judicial foreclosures, receiverships, Uniform Commercial Code (UCC) sales and disposition of collateral following default, and bankruptcy strategies.
In addition to secured transactions under Article 9 of the UCC, he advises clients in all matters covered by the UCC, including sales of goods, negotiable instruments, banking operations, letters of credit, documents of title, control of securities, equipment leasing, and fund transfers.
Ken has business experience and a legal background that includes positions as general counsel to major financial institutions and President of a federal savings association. He is able to draw upon this unique blend of business and legal experience in providing exceptional service to his clients.
Representative Experience:
Represented major banks and commercial finance lenders in asset-based and wholesale flooring financing transactions and workouts
Manager of a large financial institution under FSLIC management consignment program
Negotiated and closed multiple bank branch sales, including $400 million transaction involving collateralized mortgage obligations issued through finance subsidiary, and other complex asset/liability structures
President and chief operating officer of federal savings association
Conducted multi-state nationwide survey of revised UCC Article 9 for wholesale financing subsidiary of major motor vehicle and power products manufacturer and distributor
Negotiated and documented acquisition and leases of multiple parcels of land in redevelopment project for development of motor vehicle dealership facility
Advised out-of-state finance lender and factor entering California market on documentation and regulatory matters affecting doing business in California, and obtained commercial finance lender license
Restructured fleet leasing and supply agreements for major motor vehicle manufacturer and distributor in Chapter 11 bankruptcy case involving major car rental companies
Represented borrower in financing of leveraged recapitalization transaction
Education
J.D., University of San Diego School of Law, 1973
B.A., University of California, Berkeley, 1969
Bar Admissions
State Bar of California
Associations
Attorneys' Committee of Western League of Savings Institutions
Former Chairman
Los Angeles County Bar Association
Financial Lawyers Conference
Speaking Engagements
Former Chairman, Attorneys' Committee of Western League of Savings Institutions
Los Angeles County Bar Association
Financial Lawyers Conference
Speaking
Engagements
"Lending Practices Under Revised UCC Article 9," Commercial Finance Roundtable, presentation to clients
"Revised UCC Article 9: Default and Enforcement; Rights, Remedies and Obligations of Secured Parties," presentation to Union Bank of California
"Revised UCC Article 9: Creating and Perfecting Security Interests," presentation to Hawthorne Savings Bank
"Revised UCC Article 9: Creating and Perfecting Security Interests," presentation to Kawasaki Motors Finance Corporation and Kawasaki Motors Corp., U.S.A.
Presenter, "Commercial Lending in California," National Business Institute
Personal Bio
I am proudest of my two sons.
Most people don't know that I was president of a savings and loan association.
I stay at JMBM because of the professionalism and experience of our attorneys.