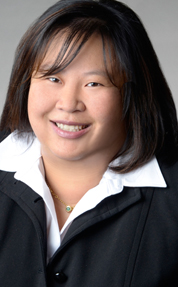 An Nguyen Ruda
Partner
An Nguyen Ruda is a partner in the Firm's Labor & Employment department. An's practice includes litigation, advice and counseling, and administrative matters. She represents employers in a number of industries, including hospitality, and is a member of the Global Hospitality Group®. An has tried administrative matters before the Labor Commissioner. An recently participated as an integral member of a trial team, which tried a complex and novel labor dispute in the federal court against one of the most powerful labor unions in the country. An's practice philosophy is to develop long term relationships and to provide efficient, effective and quality representation to clients--neither to over-litigate or under-litigate any matter.
Representative Experience:
In 2011, obtained six figure recovery for client in arbitration on a cross-claim
In 2011, successfully defended celebrity sued by nanny for unpaid overtime
In 2011, successfully settled wage and hour class action of over 5,500 employees for major retailer
In 2010, obtained nuisance settlement of FACTA case where client's e-commerce exposure exceeded $100 million
In 2009, won summary judgment on behalf of individual defendant sued on a retaliation claim
In 2009, won summary adjudication of punitive damages resulting in settlement of high exposure discrimination case
In 2008, on trial team of complex labor dispute involving one of the largest labor unions in the country tried in the Southern District of New York
First-chaired 2005 defense judgment in bench trial for City of Orinda in U.S. District Court (Northern District) real property litigation involving 14th Amendment Equal Protection issues
First-chaired 2003 defense judgment in bench trial for Whole Foods in Alameda County Superior Court on a breach of contract claim
Drafted winning motion for summary judgment and responding brief affirmed in 2006 by Ninth Circuit Court of Appeals on whether Rowland v. Christian duty requires railroads to fence their rights-of-way
Abboud v. Union Pacific R.R. Co., 2006 WL 147725 (9th Cir. 2006)(non-published)
Cohn v. Contra Costa Health Services Department and City of Orinda, 2005 WL 2171804 (N.D. Cal. 2005)
More about me on the Women Lawyers of JMBM page.
Education
J.D., Santa Clara University School of Law, 2001
magna cum laude
B.A., University of California, Berkeley, 1997
with highest honors
Bar Admissions
U.S. District Court, Northern District of California
U.S. District Court, Central District of California
U.S. District Court, Eastern District of California
U.S. District Court, Southern District of California
Associations
McCullum Youth Moot Court, (2004-06)
Volunteer Judge
New Lawyers Committee, Asian American Bar Association, (2001-03)
Co-Chair
Vietnamese American Bar Association of Northern California
Northern California Innocence Project, 2001
Volunteer Coordinator
National Association of Railroad Trial Counsel
Member
Speaking Engagements
Speaker at September 2008 Employer Resource Institute Conference, Topic: The Investigation Begins: The Best Way to Receive Complaints, Conduct Interviews, and Get the Info You Need to Make an Informed Decision
National Association of Railroad Trial Counsel (NARTC) Conference Speaker (2004, Santa Fe, New Mexico) on "The Impact of Hanif in Railroad Litigation"